Webnote, bookmarking done right
Power users and novices alike use Webnote to share, organize and search their bookmarks on their Macs.
30-day free trial
Webnote - Powerful, yet Easy Bookmarking
Power users and novices alike use Webnote to share, organize and search their bookmarks on their Macs.
Remember your Bookmarks with Webnote
It can be hard to remember why you made a bookmark. Add a note to your bookmark to remind you why it was important to you. You can also add a tag or keyword to categorize your bookmark. Folders are available for organizing your bookmarks as well.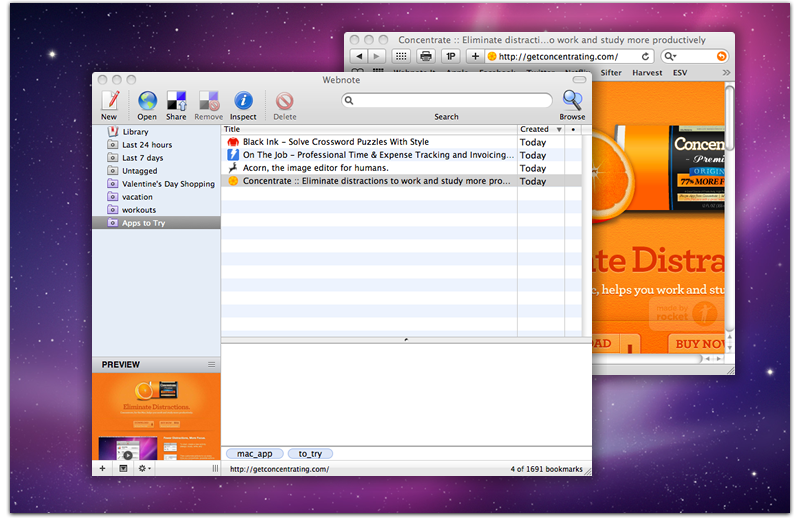 Research with Webnote
Webnote is an essential research tool for many users. While you are researching an interest of yours, you can tag each bookmark with the name of your interest, whether it's "vacation" or "workouts". Then, use the tag browser or search to find all the bookmarks related to your research.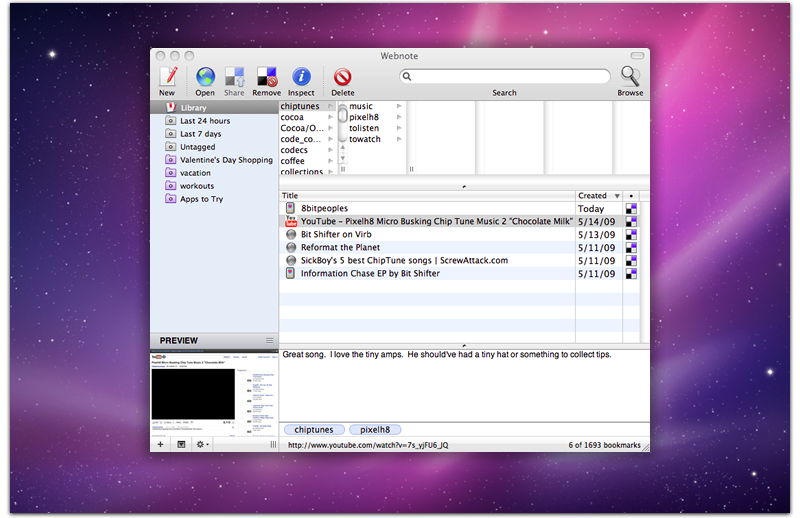 Shop with Webnote
Shopping online is more popular nowadays. If you shop at one store, they have a cart for you. Once you start shopping at many stores, it can be hard to track everything especially if they're all for a certain day like Valentine's Day, Christmas or another special day. Use Webnote and tag each one "valentine", then use a smart folder to generate your shopping list. You can add a note to each gift to say who it's for or why they might like it over another.

Or reward yourself by shopping for yourself and add notes to each bookmarked item to say why you want it (and deserve it.)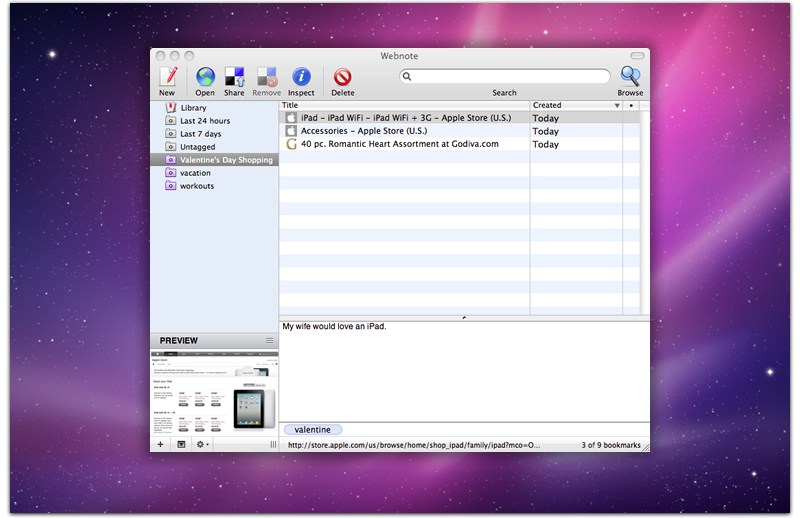 Social Bookmark with Webnote
Share your bookmarks with social bookmarking sites like Delicious. That way people can benefit from your expertise and find which sites are popular based on the people they like and respect. In the future, Webnote will support other social networks.
Create Your Own Personalized Search Engine with Webnote
Once they have built up a collection of bookmarks in Webnote, people find that it is useful to search their Webnote database first before consulting other search engines. The results are more personalized to them and contain personal notes and tags or keywords.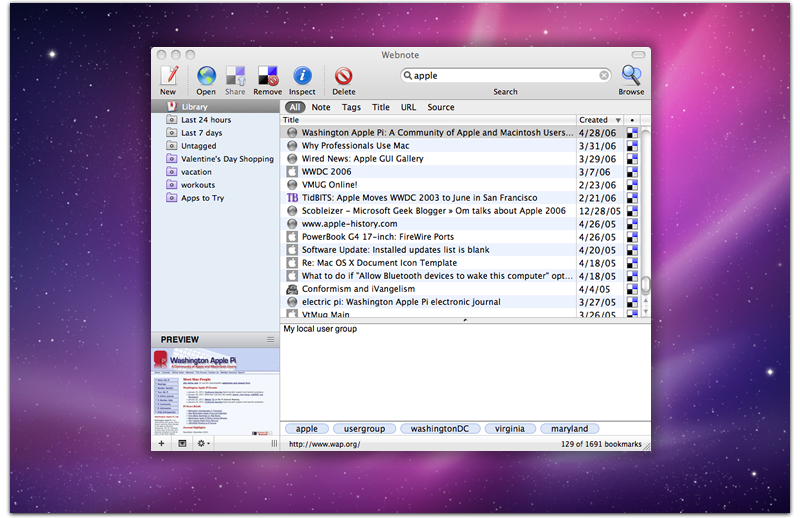 What people are saying about Webnote
Webnote. This is the bookmark manager for Mac OS X that I have so been waiting for.
Webnote is bookmarking done right. It's a great way to research the web and take note of any good sites found. Furthermore, with Webnote's clean and intuitive interface, searching for past webnotes couldn't be easier.

Mike Piatek-Jimenez, President of Gaucho Software
Managing bookmarks is tedious and time-consuming as the number of the bookmarks increases. Thanks to the clean interface replete with killer features like Delicious integration, my web experience is way more enjoyable than it used to be.

Takaaki Kato, Mac enthusiast
I'm addicted to switching browsers. Webnote enables my addiction by allowing me to not worry about syncing my bookmarks when I switch over to another browser. Regardless of the browser I'm using today, my bookmarks are always tucked away in the same, easily accessible place.